Marque Ann Barton and Catherine Allen
Celebrate the spookiest season with an annual neighborhood block party.
As the leaves become vibrant in color and the autumn air turns cool, pumpkins and witches become the décor of choice.  Each Halloween the residents of Colony West are treated to a spectacular evening at the home of Marque Ann Barton.
Spooks and goblins come out, come out…
This Halloween night was no exception. With neighbors gathering together having a bowl of chili and hot dogs complimented with eye catching desserts.  Each guest was treated to a beverage of their choice.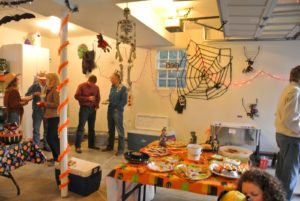 For all your fright night fun, contact Millie's Event Designs to help you plan your most spooktacular Halloween ever….