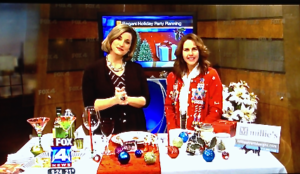 Kim Byrnes and Lisa Salley Jones
A Wonderful Christmastime.  Hosting a holiday party was the theme for Monday's segment on Fox 4. 
First, we welcome each guest with a candy cane cocktail to get them in the spirit.  The signature drink we are serving is "The Grinch"!  It is a green cocktail that has none of the nasty elements of Dr. Seuss's classic holiday character.  On the contrary, it's reminiscent of the changed Grinch with the sweetest flavors; melon-flavored Midori and lemon juice.  Add a ring of red sugar around the glass to represent the changed heart of the green man.  As your guests sip on the cocktail, be sure to offer our Christmas cookie shaped pizza bites.
As your guests make their way into the dining room, they need not look any further than a mirror to find their seat.   We have placed a mini picture frame with each guests' picture at their designated place setting.  The table has been decorated with a white linen tablecloth complemented with an embroidered red satin runner.   Just in case you can't remember Santa's team, we got you covered by having linen napkins with each reindeer's name for our reindeer games!  Christmas china displaying all the holiday trimmings along with the sterling antique flatware brings together an elegant holiday dinning atmosphere.
After dinner, while your guests are feeling in the holiday spirit, continue the evening with a simple ornament exchange.  Your guest can trim their tree with their "new" handmade or hand-picked ornament, while drinking their Baileys hot chocolate garnished with marshmallows; a wonderful parting gift that each guest received as they said their good-byes.
Don't be a Grinch or a Scrooge this Christmas!  Call on Millie's Event Designs and grow your heart three sizes with holiday season cheer!