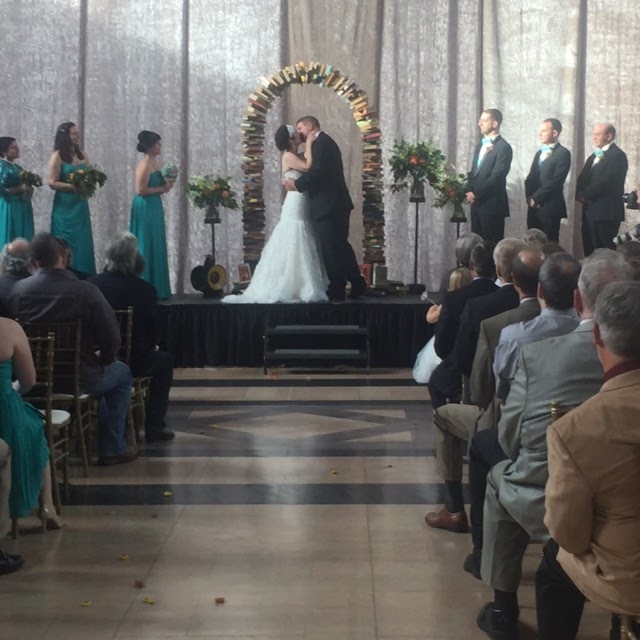 This past Saturday the 24th of October, at precisely 4:00 pm the nuptial train pulled into Kansas City's historic Union Station for Ahli Hedges and Mark Steenwyk to tie the knot before family and friends. Millie's Event Designs was chosen as the day of conductor to insure safe passage for Ahli and Mark's wedding ceremony and reception.
The couple's ceremony exemplified their passions for books and trains. They said their "I do's" under beautiful book arch engineered by one of the groom's closest friends. The officiant, Stephanie Breaker a close friend to the bride, announced to the passengers for the first time Mr. and Mrs. Steenwyk. It was now time for cocktails and hors d'oeuvres being served in the "Dinning Car" as the couple, family and bridal party took some after ceremony photos at the station. The DJ came on the PA to inform passengers to take their seats as the bridal party was boarding the train.  Upon boarding, the new Mr. and Mrs. Steenwyk went straight back to the dinning car to cut the wedding cake and do a traditional wedding toast.
The buffet was opened for passengers to begin dinning on a three course meal prepared by Brancato's Cateering; www.brancatoscatering.com. As the dinning was coming to a close, the DJ spoke once again on the PA asking Mr. and Mrs. Steenwyk to come to the "Front Car" to have their first dance together as husband and wife. This was followed by the father/daughter dance (Ahli and her father), then mother/son dance (Mark and his mother).  The  conductors then came thru the train asking passengers for their "Dollar" tickets as the DJ was beginning the dollar dance with bride and groom. The train was picking up speed as the passengers enjoyed dancing from car to car to the music mix by DJ Connor.
Set up in the "Caboose" passengers could dine on the beautiful display of cupcakes made by; The Sweet Nook.  The train was right on schedule pulling back  into Union Station at 11:00 pm. The happy couple and their guests walked off the train and made their way into the starry Kansas City night.
When your find your special someone and are ready to take your train ride of a lifetime, contact Millie's Event Designs to be your "Day of Conductor".  We will ensure that you and your special guests have a safe and entertaining passage to "happily ever after". All Aboard!