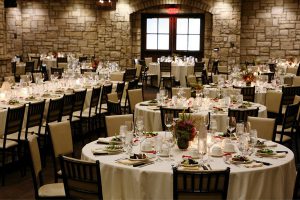 On Saturday, September 24, 2011, the Oread Hotel hosted the wedding of Crystal Robertson & Greg Lewis, and Millie's Event Designs was the official wedding planner…
When it comes to weddings you just can't help but get sentimental.  On this Saturday in September Miss Crystal Robertson and Greg Lewis said their vows on the terrace of the Oread Hotel located on the campus of Kansas University. As the guest were being seated, a lovely quartet was playing in the background. The wedding began when the Clock Tower chimed at exactly 5:00 PM. After the ceremony the guest were treated to a cocktail party where the bride & groom had their first toast.  Then it was off to The Hancock Ballroom for the wedding reception.  The ballroom was dimly lit with voided candles providing a romantic setting.  Upon entering the ballroom the guest were treated to a sit down full coarse meal.  The couple had the traditional cake cutting ceremony that then proceeded to speeches from the father of the bride, the best man and the maid of honor.  All of whom toasted the bride and groom.  What wedding wouldn't be complete without  the traditional father/daughter dance.  The guest along with the bride and groom danced until dawn. 
Millie's Event Designs would like to especially thank both Crystal and Greg for the opportunity to be a part of their beautiful day!