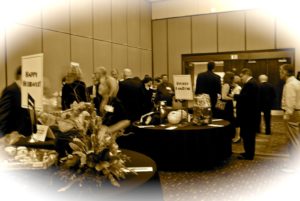 This past Saturday evening, Kansas City's Sheraton Crown Center hosted an annual signature event, a "Fabulous 40's" themed, House Party 2012 for the Newhouse domestic violence shelter.
As each guest entered the ballroom, we were welcomed to a beautifully staged silent auction.  There were gifts to bid on from signed sports memorabilia, wine tasting parties, bath & beauty products, to children's gifts they would welcome come Christmas morning.
At 7:15, the guest entered the adjoining room where we stepped back in time to the 1940's nightclub décor.  The guests were welcomed by three-year house party emcee, Curtis Jay, co-anchor of 41-Action news today and midday.  Chairwoman, Vicki Kraft welcomed everyone and introduced Pastor Laura Murphy who gave the dinner's invocation.
We were treated to a fabulous plated chopped salad, assorted breads and a creamy cheesecake topped with diced apples drizzled with a buttery sweetness sauce.  The entrée was a spinach feta stuffed chicken breast complimented with oven-roasted potatoes and garnished with assorted vegetables.
The program continued with an award showdown trophy presented to the alums of the University of Missouri who bested their Kansas and Kansas State rivals for most funds raised.  Emcee Curtis Jay then introduced this year's event chair Renee Grisson, who welcomed and thanked each major contributor and sponsor to the Newhouse House Party 2012.  This year's honorary co-chair Brad Manson was welcomed to podium to speak about his mother's and family's involvement with and passion for the women and children's shelter.  Newhouse President/CEO Jim Bogle then spoke on the improvements and expectations for Newhouse going forward.
It was then on to the "live" auction which was emceed by Kansas City's own Missy Koonce, actress, director, producer and singer.  In a matter of minutes over $80, 000 was raised from the generous patrons and their guests.  The guests then danced into the night to tunes from the 40's by Missy Koonce and Friends.
As we approach the seasons of Thanksgiving and Christmas, may you find it in your hearts to be as generous as the patrons and friends of the Newhouse were this wonderful fun-filled evening!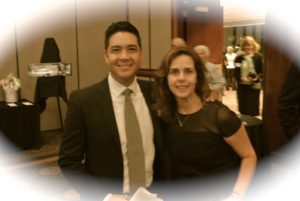 Emcee Curtis Jay with Lisa Salley Jones