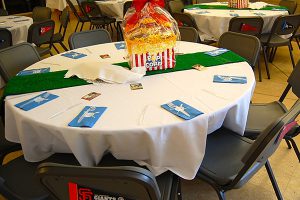 On Saturday, January 5, 2013 Zachary Cole and his family celebrated their son being called to the Torah as a Bar Mitzvah.  Millie's Event Designs worked with proud mom Michelle Cole to plan and coordinate this Jewish rite of passage.
In the Jewish tradition, the age of thirteen marks the passage into adulthood.  The term "Bar Mitzvah" means "one who is obligated to the commandments." This ceremony symbolizes Zachary's acceptance of the spiritual, ethical and religious responsibilities of an adult member of the Jewish community.
The décor of the Temple was set to a baseball theme.  Each table was draped with a white linen cloth coupled with artificial turf table runners and accented with memorable baseball cards.  The centerpiece was designed by Velvet Crème to replicate a bucket of popcorn served at baseball stadiums.
A ceremonial prayer was said with family and guests over the Hallah, (each single loaf is woven with six strands.  Together, both loaves have twelve, which represent each tribe of Israel).  After kiddush over a cup of wine, the head of the household recites the blessing over the bread: ("Blessed are you, LORD, King of the Universe, who brings forth bread from the earth").  Each guest was then treated to a buffet style lunch catered by Panera Bread that included their signature style salads and delectable pastries.
Continuing with the baseball theme, the celebration then moved out to Kansas City's Kauffman Stadium.  Here young Zachary and his friends enjoyed cake and stadium fare including pizza, nachos and popcorn.   Activities included photo booth memories and dancing to the music of a live DJ.  It also included Zachary's Mitzvah project which was collecting donations from each guest suitable for use at Wayside Waifs.  These items were collected in a pet crate provided by the charity and will be used to care for abandoned animals at the shelter.
At the end of the celebration, each guest received a gift bag that included bubble gum and baseball cards featuring young Zachary.
When you are planning a celebration for the rites of passage in your child's life, please contact Millie's Event Designs  and let us help you make the day one to remember for generations to come!