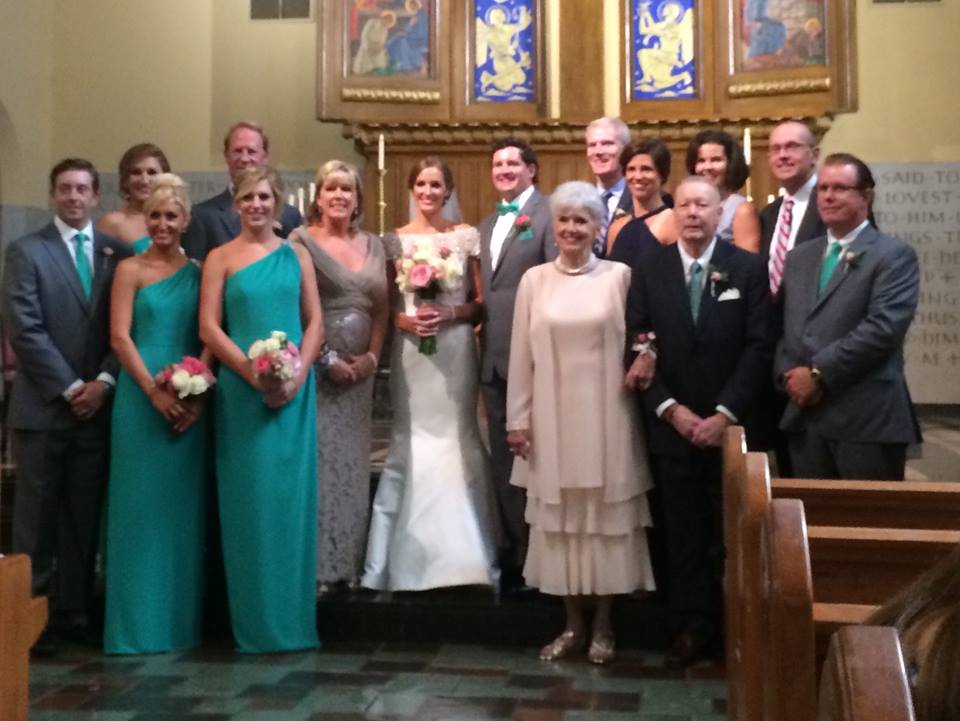 "Upon this rock, I will build my church" Jesus said to Peter.  On August 8, 2015, at St. Peter's Catholic Church in Kansas City, Kelly Reardon and Jon Nee stepped upon that rock to begin building their marriage.  Family and friends were gathered together as Kelly and Jon were united in holy matrimony in a traditional Catholic mass.  Millie's Event Designs was chosen as the wedding planner for the couples blessed event.
The wedding party then stepped from the traditional church ceremony to a reception at the new and hip Gallery Event Space in the heart of Kansas City's Power and Light District. The reception space was beautifully decorated with flower center pieces consisting of white hydrangeas, deep vibrant and soft pink roses, complimented with bells of Ireland by; www.maplelanedesigns.com.  Each table was draped with white linen table cloths to the floor accented with gray napkins.  Silver chargers at each place setting completed the classic look.  As the guests arrived to the reception, they were treated to cocktails and hors d'oeuvres.
Soon it was time for the band, Lost Wax to introduce the wedding party to the 370 guests that had graciously made their way to their assigned tables.  Once the wedding party was seated at the head table, the blessing was given by the bride's father, Mr. Jay Reardon.  As the guests were enjoying their delicious entrees' the new Mr. and Mrs. Jon and Kelly Nee took center stage for the ceremonial cake cutting.  Then the band introduced Mr. Jay Reardon who gave the first of several sentimental toasts. Next the guests were treated to the dances of the bride and groom, father/daughter and mother/son to the music of the band Lost Wax; www.lostwaxkc.com.  After the special dances, the guests along with the bridal party danced into the late hours celebrating the marriage of Jon and Kelly Nee.
From the traditional to the new and hip, when you are ready to build YOUR wedding plans upon a rock solid foundation, contact Millie's Event Designs.