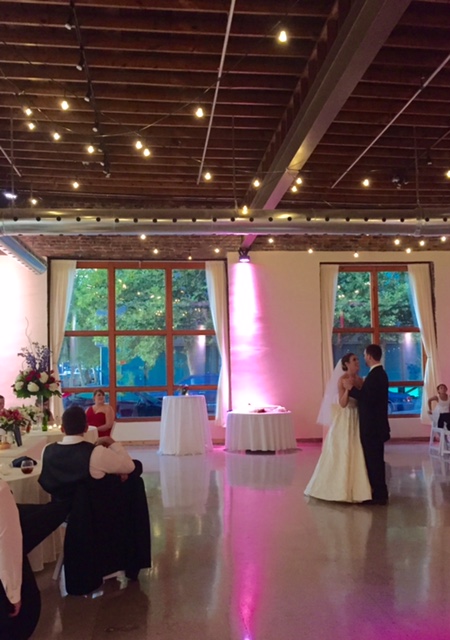 On an absolute fantastic late summer Saturday afternoon, Katie Fields and Brad Wilkinson kicked off their wedded life with elegance and class.  Millie's Event Designs was on site to make sure their day was just a perfect as the weather.
The ceremony was held in the The New Life City Church where family and friends www.heritageeventspaces.com where cocktails, hors d'oeuvres and elegant decor were awaiting. As cocktails were coming to a close, the guests were asked to take their seats, so  the wedding party could make their grand entrance.  Mr. and Mrs. Brad Wilkinson were introduced as they made their way to cut their one of kind, specially made just for them cake by designer Rama Sola. Then they picked up their champaign flutes to do a pictorial toast.  Brad then welcomed family and friends to this special occasion. He gave a very heartfelt thank you to Mr. and Mrs. David Fields (Katie's parents) for the beautiful reception. Dinner was served as the DJ announced for the head table to begin the buffet lines followed by the families and then friends.  The meal was provided by Blue Pot Cateering; www.thebluepot.com with a delectable menu of; Mixed Greens, cucumbers, Grape Tomatoes, Shaved Carrots, and Herb Croutons with Green Goddess Dressing.  The main course was Cracked Pepper Lemon Rosemary Grilled Chicken Breast Served with Boursin Cheese Cream and Crispy Leek Garnish, Garlic Herbed Mashed Potatoes, Green Beans with Balsamic Onions, and White Cheddar Mac and Cheese. 
As the dinner came to a close, Katie's father David came up to give his toast for the couple.  When he finished, there wasn't a dry eye in the house as he welcomed Brad to the family.  The Best Man and the Maid of Honor then followed with memories and toasts of their own. It was now time for the first dance for the newly married couple and the guests expressed their sentiments with a standing ovation. Katie and her father David then took to the dance floor, followed by Brad and his mother.  The DJ then opened the dance floor as he announce the wedding cake was being served. Keeping with tradition, it was time for the bouquet toss. Katie's uncle Tom Fields who was the chosen florist, designed a very special toss bouquet. All the single ladies surrounded the bride as she tossed her bouquet in the air.  The beautiful arrangement was caught by Katie's lovely niece, who was part of her processional as the flower girl.
The newlyweds and their guests then danced late into the beautiful summer night.  When you meet your perfect match and you want to celebrate your blessings with family and friends, contact Millie's Event Designs and let us start your wedded life with elegance and class!