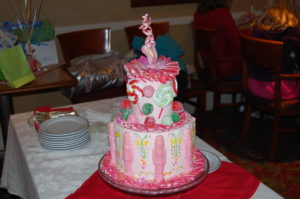 The time is now to start planning those Holiday Parties…
Yes, it is that time of the year when the kids go back to school.  Fall is just around the corner and so are the Holidays.  It was just three years ago when I was planning my daughter's 13th birthday "surprise" party.  She is a December baby and for eight years she performed in the Kansas City Ballet's The Nutcracker…This particular year my daughter was cast as Clara and what a dream come true for my soon to be teenager.  During this time I was planning the Kansas City Ballet School's Annual Sugar Plum Fairy Luncheon; the event that historically opens the Nutcracker season in Kansas City.  I worked with some of the most amazing vendors who never said no when it came to the arts for children. The Marriott Downtown KC was where the party was hosted and 13 girls hid until the guest of honor would appear.  The cake was designed by Natasha's Mulberry and Mott especially for the "Birthday Girl".  Still more surprises for not only the birthday girl, but for the guests as well.  There was a limo waiting outside the Marriott to escort the guests to their homes while taking the scenic route through the Plaza Lights.  Yes, I did indeed pull off the surprise and a birthday that she will remember for a life time.
I love making memories for my family and for others.  To make this season one to remember contact Millie's Event Designs and let's make a Holiday memory together!