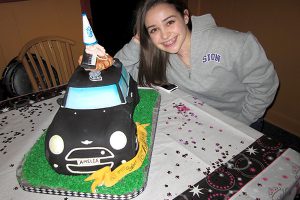 Creative Nectar Studio was the site for the Sweet 16 Paint Splatter Party – December 21, 2011.
To most people, the 21st of December marks the Winter Solstice.  But not to Amelia Jones who turned 16 this year.  Tonight she celebrated with a few of her close friends with a paint splatter party at the site of Creative Nectar Studio;  www.creativenectarstudio.com.  
The nine girls sang happy birthday while the birthday girl made her wish blowing out the candles over her Mini Cooper Cake, made especially by Mike Elder/Black Sheep Custom Cakes; www.mikeelderonline.com.
Now it was time for the paint splatter to begin!  The girls each put on a white t-shirt and entered the black draped studio.  As they entered the studio was lit with a strobe light and black lights that would accent the fluorescent paint.  For the next hour the girls enjoyed creating their own Jackson Pollack masterpieces on each other as well as on canvases provided.  With each splat of paint, the laughter was contagious.  A favorite song list played to complete a party atmosphere.
According to Amelia, her friends thought it was the best Sweet 16 party they had been to this season.  Amelia raved that it was her best party EVER!
Where has the time gone?  It seemed just like yesterday I brought this beautiful baby girl, Amelia Elizabeth home just in time for her first Christmas.  Today, I handed her keys to drive herself home on this Winter Solstice night!
Planning and executing Amelia's party with vendors like Creative Nectar Studios and Black Sheep Custom  Cakes is just a small example of what prompted me to start Millie's Event Designs.  Contact us today and let us help you plan your big event, coordinate with your vendors and execute your plans in grand style!