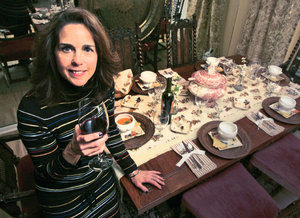 The Kansas City Star By STACY DOWNS
Lisa Jones, shown in her Overland Park home, owns Millie's Event Designs. She plans parties, weddings and gatherings big and small.
JOB DESCRIPTION: Owner of Millie's Event Designs, a business that plans parties, weddings, fundraisers and other functions, 913-890-3368, millieseventdesigns.com
You're Lisa. Who's Millie?
My daughter, Amelia. "Millie" is what my son started calling her when he was a toddler and couldn't pronounce Amelia. We've all called her that ever since.
What got you started planning events?
I chaired the Kansas City Ballet's annual Sugar Plum Fairy Luncheon in 2005, 2007 and 2008. The first one stands out. There were Tiffany blue runners on the tables and snowflakes everywhere. It was magical. The one in 2008 stands out, too. Amelia danced the role of Clara. People kept telling me I should plan events for a living and not as a volunteer. I'm good at handling all the details.
Tell us about the recent party you planned for your daughter.
Amelia turned 16 in December. We had a few of her close friends do a paint-splatter party at Creative Nectar Studio in Mission (creativenectar.blogspot.com). The girls each put on a white T-shirt and entered the black draped studio. As they entered, the studio was lit with a strobe light and black lights that would accent the fluorescent paint.
For the next hour the girls enjoyed creating their own masterpieces on each other as well as on canvases provided. There was a playlist of favorite music and lots of laughing. Amelia loved it.
What's your favorite way to entertain at home?
Having friends over for grilled steaks, or cheese and wine. We have a pool, so we like to have people over to swim.
What are some ideas for hosting parties for kids at home?
Making a theme out of what your child is interested in growing up. We had a Scooby-Doo party for my son when he was little with Scooby Snack treat bags. There was one of those cutout banners for kids to stick their faces in for photos. I always like to have designated places for pictures.
Tell us about your home.
It was built in the 1960s. We've lived there nine years. We just redid practically the whole house, including the kitchen and bathrooms. We got rid of the avocado green bathroom. There was also mirror everywhere, entire walls. We added ceiling tiles in Amelia's room, the old-fashioned tin type. It looks so cool.
What's your favorite room in your house?
My bathroom. I have granite countertops, but the best part is the floor in the shower. It's got pebbly rocks at the bottoms. It feels spalike and relaxing. I also love the dining room. It's got hand-carved furniture my great-uncle made that I inherited from my mother. The walls are painted honeycomb.
What are some of your favorite resources for entertaining?
Locally, I love Natasha's Mulberry & Mott in Leawood and on the Plaza (natashasmulberryandmott.com). The bakery creates beautiful cakes and cookies. For Amelia's party, we had Mike Elder of Black Sheep Custom Cakes in Clinton, Mo., make a cake shaped like a Mini Cooper, (mikeelderonline.com). He's the three-time winner of TLC's "Ultimate Cake Off."
Rainy Day Books in Fairway always tells me about the newest books that are up and coming (rainydaybooks.com). Online, I'll look at InStyle (instyle.com/instyle) and wedding sites. Martha Stewart Weddings and the Martha Stewart blog are the best, (marthastewart.com).
To reach Stacy Downs, call 816-234-4780 or send email to sdowns@kcstar.com.
Read more here: http://www.kansascity.com/2012/01/18/3375784/q-a-lisa-jones-overland-park.html#storylink=cpy