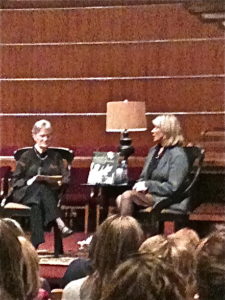 Kansas City's Unity Temple on The Plaza Sanctuary hosted an evening with Martha Stewart.
On this rather warm November evening, there I sat among others star gazing and listening to Vivien Jennings, (owner of Rainy Day Books) in conversation with entertaining and style icon Martha Stewart.  Martha was in Kansas City promoting her new and updated edition of Martha's Entertaining: A Year of Celebrations. As I listened I kept thinking about the first time I had seen her on TV and when I had driving past her home in Bedford, NY while on business.  Tonight here I was sitting in the same room as Martha Stewart, what a moment.  Martha talked about her chickens and bringing the eggs to distribute to her staff.  She loves lemon and makes a very tasty Black Cherry Mojito.  For someone who has achieved so much, she is very much down to earth.
All in all, the event seemed to go very well.  As I always say (and I'm sure Martha would agree) No event can go well unless well planned and executed.  So next time you are planning an event, think of Millie's Event Designs and let us plan and execute for you!